Many of you have reached out recently asking me about my weight loss journey. A few of you have specifically asked if I would share what I did, or took, to make a dramatic change in my appearance this past Fall. As your Empowered Femtor, I want to be honest and true with all of you. I am here to empower you as you empower others.
Before we dive in and discuss some of the details of my weight loss journey, I want you to be clear that I am only writing about my journey, as lived by Moi. I am not a medical professional, a dietician, nor a health guru. I am just a girl who has struggled with eating habits most of her adult life and thrives on emotional eating.
In this blog, I am going to share how I arrived at my decision to change the path my weight loss journey was heading on and how you can proceed if you also happen to arrive at the same decision. I can't empower you for other decisions regarding weight loss at this time because I haven't walked those paths. HOWEVER, in the future, I will bring in some guest bloggers who will share their weight loss journeys so you have a few examples to learn from who took other paths.
Today, we focus on the questions you have asked me and how I approached my journey.
Bueno?
Bueno.
My Weight Loss Journey
How My Weight Loss Journey Began
My relationship with food has never been a good one. I have an extreme weakness to breakfast tacos, French fries, chicken wings, ranch, Cheetos, corn cups, and pan dulce (sweet bread). I had unhealthy eating habits that led to me becoming overweight, as my metabolism could not keep up. With the scale on a steep incline, it became difficult for me to control my weight. I knew I had to make some changes, but I have never taken a weight loss journey, so I didn't know where to begin.
My mental programming was of no help. For years, I was programmed to get another tortilla when there were still beans on my plate. Add in that I was raised that you don't throw away food because there are people without it. Family always told my brother and me to eat everything on our plate. Letting go of all those things engraved in my brain was really hard, but I knew that my journey would not be able to start if I didn't end some of the internal struggles that caused me to get where I was.
Like many of you, putting myself first and focusing on my health was not a priority. I was always running around, always rushed, with no time to plan meals, which led to me eventually having weight-related health issues. Due to my poor eating habits, learned that I had Diabetes, which is a condition that affects the way the body processes sugar.
Let's stop for a moment, as I want you to understand that I take full ownership for getting to this point. Receiving this diagnosis was really no surprise since that pan dulce (sweet bread) runs through my veins. But let's be honest, how does a girl get so sweet if it is not by eating excessive amounts of conchas, cuernitos, and polvorones? Those are my go-to breads at the bakery.
Hear me clearly when I tell you that I did not struggle with body issues that caused me to feel insecure. While this may be the story for many who endure a weight loss journey, that is not my story. I loved my body and honored it with goodies!
I never considered the effects my eating would have on my internal organs because I loved every inch of my skin. Even at my highest weight, I still thought of myself as beautiful. I had no problem wearing a bathing suit at the beach or taking full body pics for Instagram. My appearance never got in the way of my happiness. I promoted to others the importance of loving yourself where you were and doing your best with what you have. But that diabetes diagnosis was like a DJ scratching the record one too many times … a girl has limits in what she can take. It really got me to think about my body and how I was treating it.
With the reality of having to take medication for diabetes, I took the first steps on my weight loss journey by starting to watch my diet more carefully and taking my health more seriously. It was super hard for me to stick to a diet, go to the gym, and to make time for meal prep. I was never consistent and seemed to continually fail. I tried every diet pill, powder, tea, patch that was out there; yet nothing worked. My weight didn't want to be lost and my journey toward weight loss was ending before it really began. I knew it wasn't okay as it was, so I started to research and see what medical tools were available to help me lose weight.
For those who are unfamiliar with them, medical tools are options for surgery that can alter your appearance in less time when you meet specific conditions. There are side effects that last a lifetime, and the change is immediate in terms of the consequences, but if you follow the guidance, change your mindset, and use the tool as a way of accomplishing your end goal a bit quicker and with longer-lasting results when you follow the process and doctors' guidance, you will see AMAZING results. So, what did I choose?
After a lot of research and talking to healthcare professionals about my specific situation, I decided to undergo a surgical weight loss procedure called "sleeve gastrectomy." With the sleeve, they basically go in laparoscopically and remove about 85% of your stomach.
How My Weight Loss Journey Progressed
The procedure itself was routine with a quick recovery. But I wasn't prepared for the mental battle. Coming to terms with my decision and learning to take care of my new body was a very hard hurdle to get over.
A few days after my surgery, I called the doctor asking them to put my stomach back. The nurse told me there was nothing they could do, and I insisted they put me on a stomach donor list. It is a bit funny now, but I was so serious at that moment. I had a hard time coming to terms with what I had done. There were moments I literally cried because I felt like I had butchered my body and was having serious remorse about my decision.
As I looked at my stitches and thought of the impact this change will have on my life, I allowed myself to dip back into the unempowered fem I was many years ago when I let everyone else tell me about myself instead of listening to the voice that says:
"I am bold. Zoraida, you are beautiful. I am courageous. Zoraida, you are wise. I am powerful. Zoraida, you are unique. I am strong. Zoraida, you are EMPOWERED!!"
This was by far the most difficult part of the journey.
The first weeks were the worst. If you end up choosing to have weight loss surgery to help you on your empowered weight loss journey, you really need to mentally prepare yourself for the changes that are going to take place. I will offer that piece of advice as your Empowered Femtor, as a friend, and as a fellow human who wants to ensure you make a decision that is right for you. Over time, I have become stronger and reminded myself who I am and why I made this decision.
How My Weight Loss Journey is Going Now
My journey isn't over because I had the surgery. It has only just begun. Now it continues as I try to maintain this Thalia body (watch this video if you don't get that reference).
Sis, if you thought before you couldn't tell me nada (nothing), now you can't even make eye contact with me. The fans need to stay six feet behind! I am on another level, baby. With all the pounds lost, I have a newfound confidence that I didn't even know was missing! And with this confidence, I am ready to catalyze ambition within every woman I connect with in my day-to-day world, whether in person or online. What once was a whisper within me that wanted to help others is now a powerhouse with a megaphone that is ready to ensure there is no person who doesn't hear the message.
The surgery gave me much more than my health back. It has given me the opportunity to be the best version of myself. I can do so much more than when I was being weighed down by those extra pounds. The extra energy I have from being lighter motivates me to stick to a healthy eating routine, go to the gym, and put myself first. BONUS: I fit into my uniforms again! I am literally so much happier now in a way I never realized was possible because I didn't know it could get better than it was!
In case you are considering weight loss surgery as your tool for losing weight, I want to share with you how to have an empowered weight loss procedure, so you don't find yourself struggling with the same mental health battle I was dealing with in the immediate weeks after mine. Let's do our best to equip you with the knowledge for success.
---
Seven (7) Tips for an Empowered Weight Loss Journey Using a Medical Weight Loss Procedure
To have an empowered weight loss journey if you decide to use a medical weight loss procedure, try these seven tips:
Research, Research, Research
Do as much research as possible to come to an educated decision that is best for you. Be sure to understand the procedure, recovery, and the side effects. Take your time in reading and understanding all there is to know about your chosen procedure. Only you know your body, see how this procedure will impact your life.
Talk With Someone Who Has Had the Procedure Already
Weight loss procedures are so common that we all know someone who has gone through it. Reach out to those people and ask them all your burning questions. Having a conversation with someone might help ease your nerves. From experience, I can tell you that people who have had the procedure are usually more than willing to share their story. Approach them with a humble attitude and desire to learn. One of the women I connected with lives more than 1200 miles away and was the friend of a friend; yet she answered my questions and shared her favorite recipes with me to help me get through the first weeks!
Establish a Strong Support Group
Make sure that you have a strong support group that is not going to be eating a double cheeseburger while you are on a weight loss journey. Find your tribe that will be there to support your decision and be there for you. Surround yourself with positive people that want the best for you.
Take Your Time
There is absolutely no rush to be skinny by summer. Weight loss surgery is a medical procedure that has risks. You need to be sure to make educated decisions and not be rushed by your own desires to be skinny by a certain date.
Speak Up
Do not be shy to ask questions to your medical team or your insurance. This is your body and your life. There is no dumb question when it comes to your health. Be sure that your understanding of terms, procedure, and risks is clear. If there is anything that you do not understand, speak up and ask.
Carefully Choose Your Doctor
There are so many doctors that specialize in weight loss surgery. Be sure to pick one that you have researched and feel comfortable with. Your medical team will play a big role in your journey. Be sure that your doctor has a strong team that will be there for your journey.
Do it for YOU!!
Remember that you're doing this for YOU and not anyone else. You are the reigning queen and you run your world. This life changing decision is for you to live a better, stronger, happier, healthier life. Put yourself first on this one.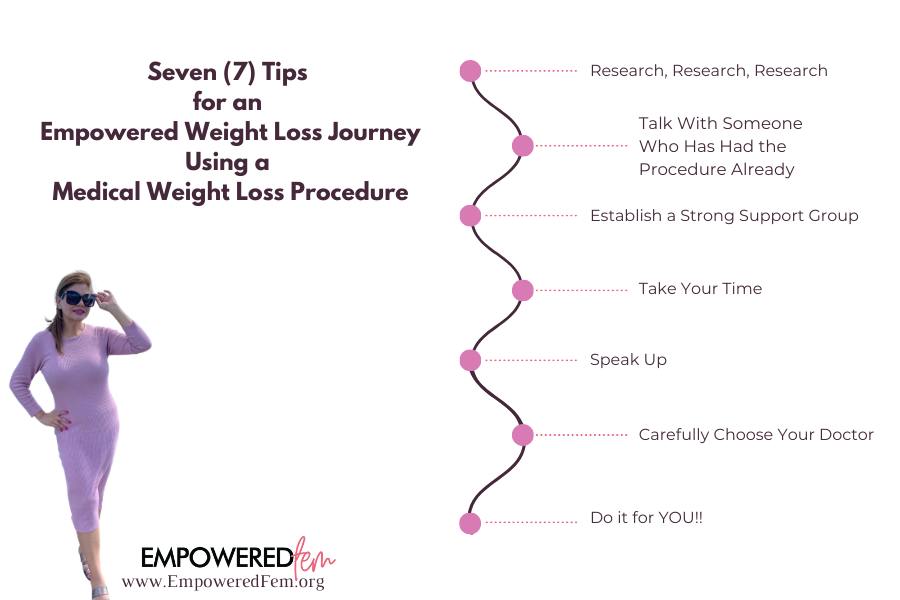 ---
Start or Continue Your Weight Loss Journey Today
Remember, Sis, this is my weight loss journey. I am sharing with you because it is something that I have used, and you can clearly see the results that it has had on my body. So many of you reached out and asked me questions that I was shocked. I never realized how many women struggle with their weight to the point of not knowing how to move forward. Weight loss surgery might not be the answer to your personal weight loss journey. That will be okay, and we will celebrate with you if you choose to do it naturally. It is something that has worked for me with amazing results.
While I only discussed the sleeve above, there are other procedures you can choose. The sleeve is the one that was best suited for me. Talk with your medical team about your medical needs, discipline level, faith, and other concerns you have with your current weight and then ask them to review with you ALL of the possibilities you have for transforming your body into a peak machine for your personal wellbeing. They can guide you to information to help you.
You have to do the research for your journey, but I'm well aware that most of us start our journeys by hearing the story of someone we know, trust, and like, so I feel responsible as the Founder & President of Empowered Fem, and as a human, to share my truth and let you then make your decision based upon the research YOU do. Please recognize that with all medical procedures there are risks and many things to consider undergoing the procedure. Always check with your medical professional before making any decisions on weight loss surgery.
Whatever you decide, we are building a community here that will support one another, encourage one another, and help one another. One woman at a time.