It is only the second quarter of the year and I have already visited the Riviera Maya twice. Can you say obsessed?!
I have a passion for everything and anything that can bring me joy, which means traveling, designer bags, and my husband's direct deposit. Getting to a place where I can feel worthy of nice things and treat myself to vacations without feeling guilty took a while. That is common for many ladies, especially wives and moms. But when I realized that my happiness was up to me and no one else, my mindset and habits rapidly changed.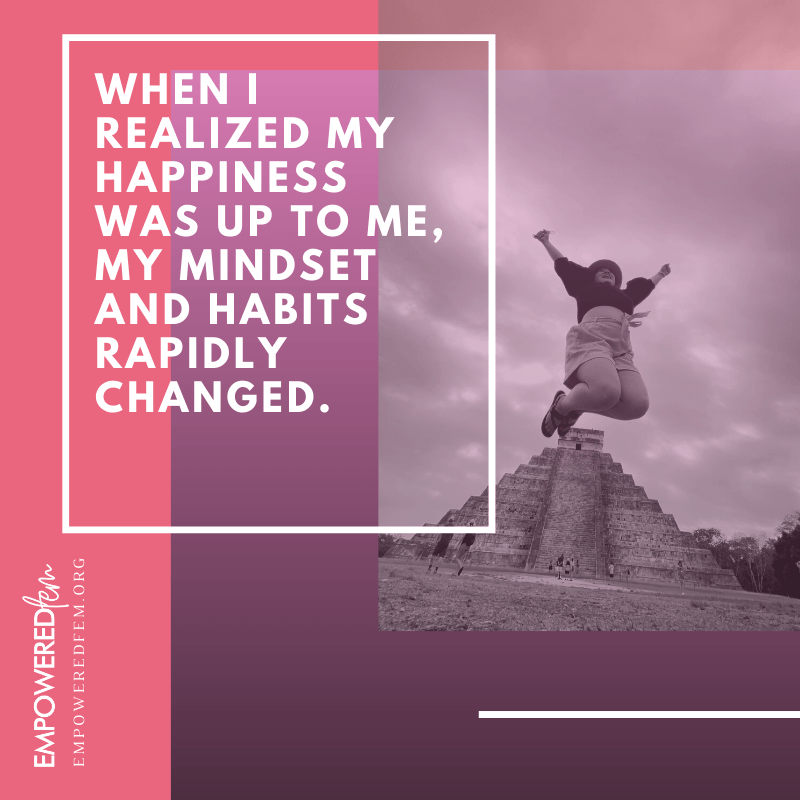 Traveling has been an outlet to relieve stress from the daily grind. It has been a way to find myself by creating life experiences that could only be imaginable. Never in my wildest dreams would I have thought that I would visit some of the most iconic places in the world. Growing up, we only traveled to Mexico to see family or if someone passed away. Family vacations were a thing only rich people did.
It took some serious shifts in mindset to break those generational curses and to allow myself the luxury of traveling abroad. I began to look at my finances and realized that I had been working to stay in good standing with the credit card company, the credit union, and the car note. All my hard earned money was going to them every month, religiously. The day I sat down to make a spreadsheet of all the interest, NSF fees, and random charges was an eye opener. It opened my eyes to stop all those habits and begin to work for my adventures. I was no longer going to work to fund the bank, the department stores, or the car companies. By completing my debt snowball, I was able to have the extra money in my income to travel. For all my empowered financial tips check out the blog, So you wanna have funds?
When people say, "You are so lucky to travel to all these places," I say, "There is no luck, just hard work". Take this as your sign to reevaluate your priorities and your finances. Make yourself a priority and determine not to ever sell yourself short again. Make your list of the places you want to go and the things you want to buy.
Today, grab your passport, boarding pass, sunglasses, and oversized hat. I am taking you to the Riviera Maya and then sharing 10 Rules for Traveling Like a Queen (Empowered Fem style).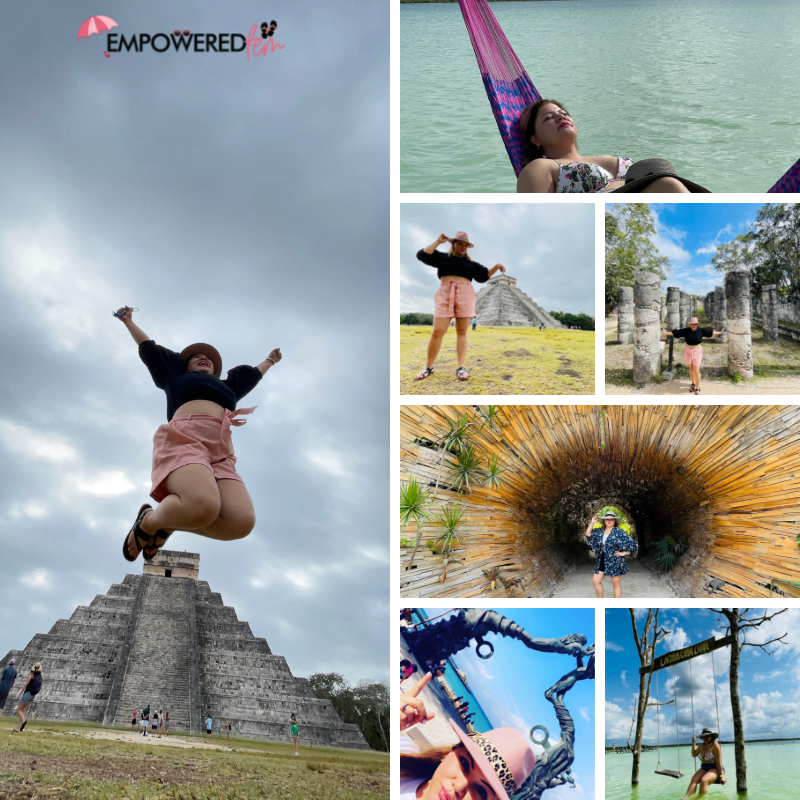 Visiting Riviera Maya
Cancun
First stop is the iconic and most renowned, Cancun.
Cancun is the home base of the Riviera Maya since this is where the airport is. All destinations to the Riviera Maya will land here in Cancun. Your celebrity status starts here as soon as the stewardess announces the landing. Get your sunglasses, beach bag, and sandals ready because it is going to be a fun ride.
The best part of Cancun is that it has it all. Here you will find the necessities like beer, tacos, and more tacos. Cancun is family friendly but also has a fun nightlife for adults to enjoy. For the most part, the hotels here are all inclusive (meaning that your food and beverage are included in your stay). Yes, that includes alcohol. This makes it so much easier on the pocket book since your trip is pretty much paid for by the time you arrive. You will just need to take money for your souvenirs and day adventures.
In your hotel, you will find everything that you need for a trip deserving of a queen like you. Enjoy the fact that you do not have to cook and just worry about protecting yourself from the sun. Let the wait staff hand you that pina colada while you spend the day on a beach chair all day. Take it all in baby; you deserve to do absolutely nothing but be pampered.
Once nightfall hits in Cancun, it is time to get your glam on and take over the strip. You will want to make an appearance at Coco Bongo. This is a classic bar-show experience that you will remember forever. It is the most fun time, as they will have performers, music shows, and so much more. It is worth every single peso. Other must do places if you have time are Senor Frogs, Dady'O, and the new Rosa Negra.
Playa Del Carmen
As much as we love to stay in Cancun, we must move on to our next destination, Playa del Carmen.
I had the opportunity to explore this beautiful beach last year with a quick four day getaway. Playa del Carmen is located about one hour South of Cancun. Here you will find more beautiful beaches and the iconic Mayan Portal. The portal is a high rise statue with a man and women holding hands. Where this statue stands is where the Mayans would come in from the boats to trade goods. It is truly a spectacular site. Here you might also catch a glimpse of the Voladores de Papantla. They are the men that perform a ritual up high in the air.
If you prefer to do some shopping instead of learning about the Mayan culture and seeing the architectural sites then 5th Avenue is the place for you. Here there are many vendors, high-end stores, and tacos. I am an addict for window shopping and street food, so this place is great since you can do both here. Go ahead and enjoy a freshly cut coconut while you see all the overpriced shops. This is an outdoor area full of blocks and blocks of stores, so go in the evening when the sun is not as bad.
You will also want to try some of the local seafood here. It is to die for. You will enjoy it so much that you will never go back to Red Lobster again. There is something about that Mexican Coke that just hits different. Make it a point to just try all the food. There is no calorie counter while you are on vacation.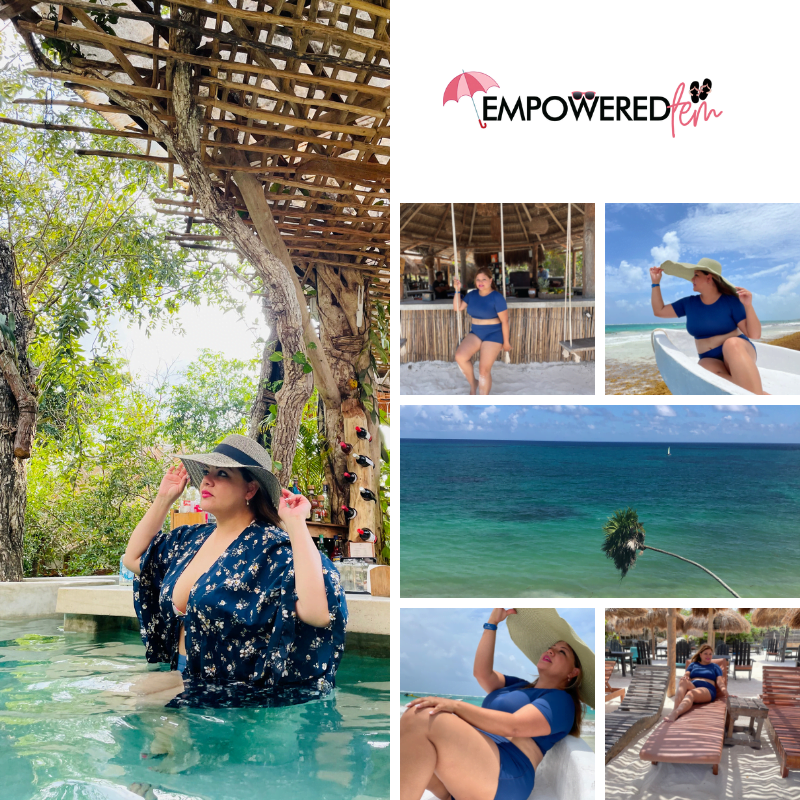 Tulum
Let's keep on tripping, next stop is Tulum.
I <3 (heart) this place. Tulum has really grown and become a popular tourist destination. If you plan to travel here, you will not be disappointed. It is everything and more. The beaches, the vibe, the food, the décor, the people, the clubs; there is not one bad thing about Tulum. To get here you will have to plan on a two-hour ride from the airport to Tulum.
This area is more expensive if you choose to stay at a hotel that is near the water. The hotels by the water are boutique hotels with more earthy vibes. Here, conserving the ecosystem and nature is everything. You might see a tree going through the middle of a walkway because they want to preserve the essence of nature. There are other affordable hotels just ten minutes from the beach that you could certainly enjoy just as much.
Here in Tulum, you will be surrounded by the best beaches, climate, and vibes. There are so many photo opportunities for the gram. There are also bike trails so that you can easily move along the coast via bicycle. I am too thick to ride a bike so I prefer a driver. The one thing to know about Tulum is that the shoreline is only one street with pedestrians, taxis, and scooters. There is always traffic during peak hours, so be sure to plan for that in advance.
There are many beach clubs in Tulum that will cater to you like the queen that you are. You will have to choose which one fits your price range. The reason you might want to pay for a beach club versus going to a public beach is the maintenance of the beach. In a public beach, you will have to go through all the seaweed and debris that washes up. In a beach club, all of that is already taken care of. You will find yourself in a nice hammock or swing where your cup will never be empty.
While in Tulum, you can take day trips to various cenotes. Cenotes are natural swimming holes with crystal clear cold water. There are tons of them all over the Yucatan Peninsula. There are some that are open and others that are in caves. I have visited both types. I am scared of bats and caves so I tend to only swim at the open ones. A cenote is an experience that you must do while in this part of the world.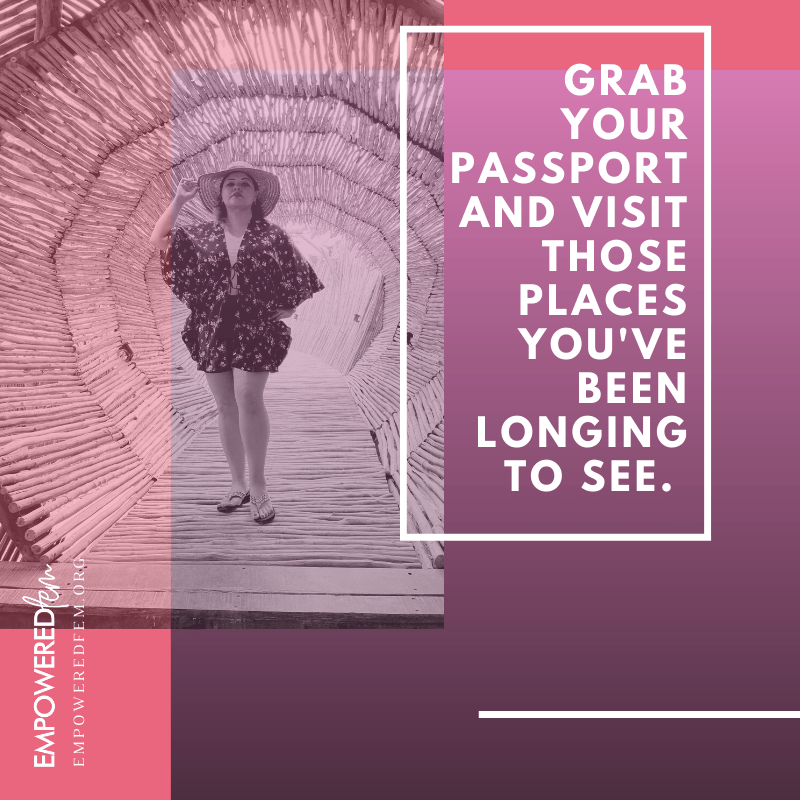 If archeological sites and Mayan adventures are what you are looking for, here are two iconic places that must be in your travel plans: Tulum Ruins and Chichen Itza.
At Tulum Ruins, you will be able to enter a long lost Mayan city that is still guarded by a rock wall. That is what Tulum means, "city surrounded by a wall". The ruins are a fun way to experience the ancient Mayan way of life. You get to experience first-hand what their houses looked like and how they lived. Be prepared to walk, as it is entirely an outdoor tour with trails, and amazing sites of the Caribbean. There are some great photo opportunities here also.
Chichen Itza is also one of the Seven Wonders of the Modern World. This site is about two hours East of Tulum. There is also a time difference here that most people are not aware of, so plan ahead. I mean, really plan ahead, this site gets over 15,000 visitors a day!
I recommend that you leave your hotel super early to be one of the first ones through the gate. This is an experience that you want to have without the big crowds of tourists getting in your way. Grab your tour guide and get all the stories behind all the iconic buildings, pyramids, and ball court. It is a plus when your tour guide can take your pictures. Don't forget you need content for the gram or fotos pal face (Facebook pics).
Here in Chichen Itza, you can call on your inner Mayan Goddess. The one that takes no bull from anyone. The one that is always in control. The one with authority, audacity, and power. The one that everyone is scared of. The one that demands respect with her presence alone. The one that is willing to cut someone off in an instant. The one that never has to ask for permission. Call on her whenever you need to.
After learning the history of the pyramids, buildings, and culture, you can take a stroll to the Sacred Cenote. Here you will be able to see where the Mayans sacrificed the cheaters, snakes, and bullies of the world. Just kidding. I don't know who got chosen but leave all your problems there. Release all your worries and sacrifice them to the Mayan Gods. I tried leaving my husband there but he found his way back to the entrance.
Chichen Itza is truly a wonder of the world, as it will take you back in time to a place when the Mayan community ruled. You will be amazed at the architecture, the precision, and the overall ambience of the ruins. How could a civilization do so much with so little?
Like our Mayan ancestors, we also need to leave our legacy. Let us keep making people wonder how we do so much with so little. It is all in our mindset. Let's break free from all our thoughts and just go for it. Go for that vacation, go for that job, go for that degree, go for that business, go for it. You owe it to yourself.
I want to know all about your trips.
What is your favorite place to visit?

Tell me about a memorable vacation.

Have you been to any of the places listed above?

Are you ready to travel and explore this amazing world?
If you answered yes to the last question, keep reading because I am ready to share 10 Rules for Traveling Like a Queen (Empowered Fem Style, of course!).