In the last blog, Being Beautiful by Being You, we addressed the common misconceptions of not showing up as our authentic self and identifying what beauty really means to each of us. As we go through our journey of growth and purpose, we are molded into diverse beautiful women of unique charm, looks, and style. We often put way too much emphasis on the way we look to the world versus how we show up to the world. If you are like me, the monthly salon bill has just become as normal as paying for car insurance. At a minimum, we need our mani, pedi, wax, and lashes—or do we?!
For me, the concept of dressing up was learned at a very young age when I would see my mom put on her signature red lipstick. She wore lipstick and makeup all the time as most women do. When it came time for Sundays, we all had to dress up for church. I remember this causing me anxiety when I could not find something to wear. I would panic and look to friends to lend me something to wear. I couldn't wear the same thing I had worn last Sunday.
Growing up very humble, most of my clothes were handed down to me by family friends or made by my grandmother. I vividly remember going to my first homecoming dance and not being able to afford a fancy dress. I was fortunate to have a grandmother that could sew with her eyes closed if she had to. It just happened that we would go visit her often in Nuevo Laredo, Mexico. So, one weekend she knocked out a beautiful blue dress designed and sewn just for me. I remember the feeling that wearing that dress gave me. I felt loved by my grandmother, unique, and eternally beautiful in a dress that I knew no one else would have on. Putting on that dress gave me wings that I did not know I had. There is a picture somewhere at my mom's house and looking back at it brings me so much joy. Maybe because of the memories of my grandmother or the fact that the picture has the Homecoming King, Eddie Martinez, in it. 😉 Like I said, this dress gave me wings. LoL, I know that without the wings that the dress gave me, never would have I gone up to the Homecoming King and asked him to take a picture with me. In that picture, I noticed me smiling from ear to ear and the unibrow that the Homecoming King had. 😂 I just realized that through the eyes of 16-year-old Zoraida with a crush, there were no imperfections.
As our journey to eternal beauty, perfect hair, flawless skin, toned bodies, long nails, less wrinkles, more Botox, consumes our daily lives we can't help but to show up in the best version of our self-created selves. That's right, a self-imposed facade of what we think beauty should be. To some, beauty is showing up with name-brand clothes, 25MM lashes, and red bottoms. To others, showing up in jeans, t-shirt, and Converse is what they feel beautiful in. There are two things here: how we feel and how others see us.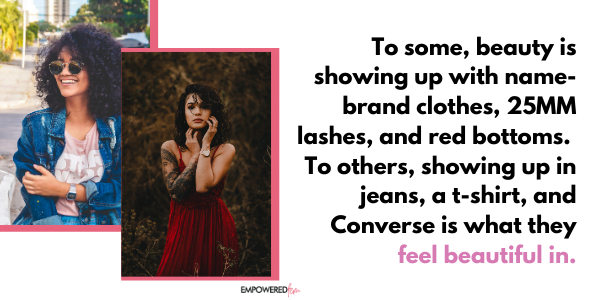 Some of you might have heard of an organization called Dress for Success. This organization helps women who are actively looking for employment by donating interview attire from the suit all the way down to the shoes. As a recipient of the resources and assistance from this organization, I know firsthand the challenges that women looking to find employment face. This organization helped take one of those obstacles away, which was my interview suit. I remember that they had hundreds of suits and business attire available for women of all sizes and styles. As my interview date got closer, I made my appointment at the center to get my attire. Before you could go and try on clothes, you had a one-on-one with a counselor to discuss interviewing and tips to help you land the job. As soon as my one-on-one was over, the counselor walked me over to where the clothes were and was so excited for me to try on a purple suit. Mind you, during this time Barney was making his way to the scene and the last thing I wanted was to be made fun of. I hesitantly tried on the purple suit and was surprised that it was a perfect fit for me. Just putting it on made me feel like I could conquer the world. Looking in the mirror I saw a confident, stop-at-nothing, happy-go-lucky girl. Then, the counselor said that the suit had been donated by a judge. WHA!! Girl, you couldn't tell me nothing!! Just by hearing that my wings grew so big that I could not get out the doors that day. By wearing a purple suit donated by a powerful woman who was in a dominant role as a judge, magically transformed me into Super Woman. I suddenly saw myself in the light of authority, prestige, and enough confidence to shift my mindset.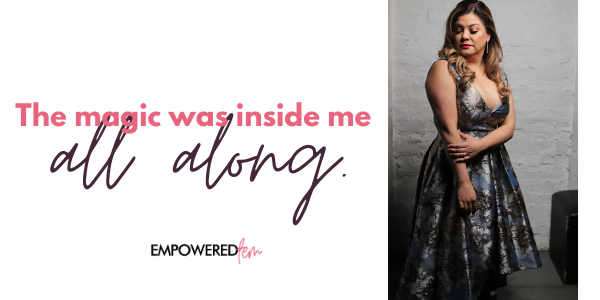 I now realize that the magic was not in the dress my grandmother made me or the purple suit given to me. The magic was inside of ME all along. That so often I let circumstances, limiting beliefs, and doubts take my magic. If there is anything that I should guard, it is that magic. That magic that makes me beautiful, boujee, and—most importantly—POWERFUL. If dressing up is what it takes to discover my magic while dressing down, people still seeing that magic when I am dressed down is what makes me ME! Perfectly imperfect me.
I dare you to find your magic and walk in it.